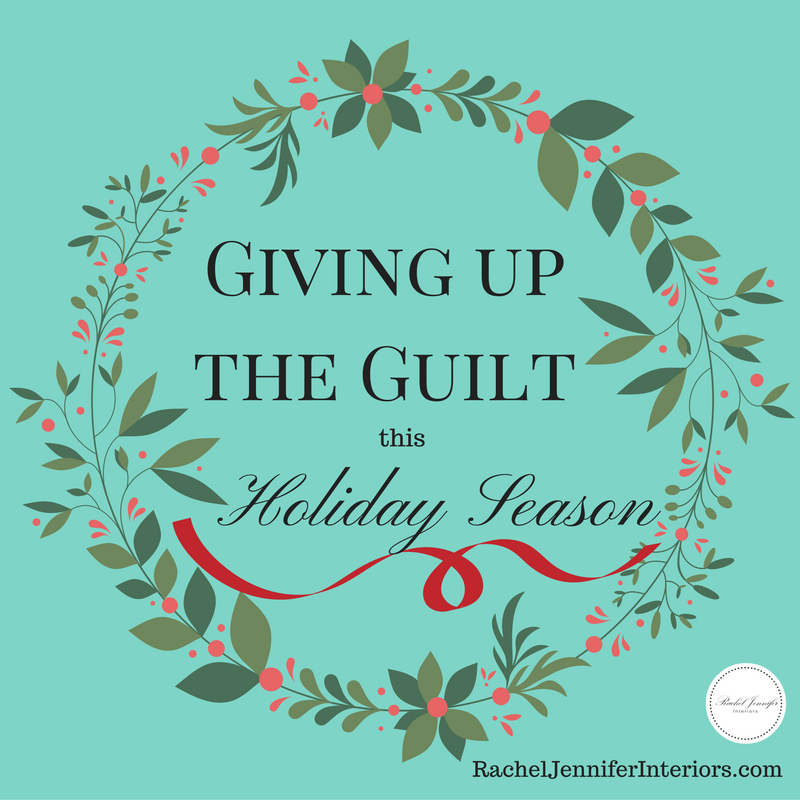 Giving up the Guilt this Holiday Season
It's the most wonderful time of the year!  The holiday season is in full swing.  And if we have learned anything from watching The Grinch -
it will come without ribbons,
it will come without tags,
it will come without packages, boxes, or bags!
However.  There will be no shortage of gift giving & receiving amongst the holiday parties and family dinners.  Because doing even something small to make that special someone happy, or see a grandchild's face light up, is a great feeling.  But there's one thing that can get in the way of the process.
That one thing, is guilt.  Not everyone struggles with this, but many of us do without even putting a name to it.  It applies to receiving gifts, but also to holding on to family heirlooms, as well as other sentimental items.  Holding on to things can become such a burden, that it takes the joy right out of the act of exchanging gifts.  Worrying about where to put new things, or how to break it to grandma that you don't have room for her antique record cabinet in your home, can be overwhelming, especially this time of year.  Let's explore how to let go of these feelings and enjoy the holiday season!
Give yourself permission to accept gifts.
Just say thank you!  It doesn't matter if it's the wrong size, it's something you'll never use, or you already have one and there's no gift receipt to exchange it.  You are saying 'thank you' for thinking of you, and the gesture itself.
If it belongs to you, you get to decide what to do with it.
Most of us would never want a gift or heirloom they had given a loved one to become a burden.  When I give a gift, I want it to make that person happy, not weigh them down.  I would rather them exchange it or donate it if they find it's not useful anymore or isn't the right fit for them.  There is nothing wrong with repurposing or donating gifts and heirlooms that are no longer wanted or needed.
Kids toys.
The above concepts especially go for kids toys!  We all know how fleeting kids trends are, and how quickly they move on to new interests.  Give up the guilt and pass on toys that have been long forgotten at the bottom of the closet.  Accepting a gift doesn't mean it's forever.  If a child gets use out of it and is ready to move on, there are many children that are waiting to have a turn once it is donated!
Making room for 'space'.
It can be easy to forget, that space is a commodity to have in your home!  When the holiday season is over, and you are re-organizing the kids toys or your closet, remember to factor in some extra space.  Give clothes room to breathe in the closet, and clear off the floor in the kids play room or bedroom, so that they have room to enjoy their favorite toys.
You can only control yourself.
So, with all this being said, there will always be the friends and family members that will check up on their gifts.  And there is nothing wrong with that.  We all enjoy seeing our gifts being put to good use.  But if you no longer have something that grandma or auntie gave your kids 3 years ago and they are disappointed, there is still no reason for you to feel guilty!  Simply be honest, explain that your children got a great run out of it and loved it at the time, but they outgrew it and you passed it down.  These conversations can be awkward at times, but it's really as simple as that!
To sum it all up, I'd like to pass along the words my mother in law told me when I started having kids.  We have such a supportive family and I am thankful for them every single day.  My kids have everything they need, and more than that.  But if I had held on to everything my kids have received from us and our family, there would be no room to walk through my house.  My mother in law said to me, 'you are the only one that decides what stays in your home.'  And even though this might sound like a no-brainer, it gave me permission early on to do what I thought was best for our family and our home.  Today I'd like to remind you all that you have permission to do the same!  I hope you have a wonderful holiday season with family and friends, and may it also be guilt free!